Installations
The following are a list of Installation services that we offer, please bear in mind that we pride ourselves on our workmanship excepting nothing less than 100% quality and customer satisfaction.
Boiler Installation
As independent boiler Installers we can advise you on the benefits of all the major Boiler manufacturers, the pitfalls and most importantly the efficiency of each of them. We will visit your property and quote you for the removal of your old boiler, the purchase of your new one and the fitting as well, here is a list of the most popular manufacturers we deal with:-
Worcester Bosch
Viessmann
Ideal Boilers
Glow Worm
Vaillant
Heating Systems Design & Specification
Gas Boilers
Gledhill Pulsacoil BP electrical hotwater thermal store
The Pulsacoil BP provides cost-effective hot water with less problems then the previous Pulsacoil 3, Pulsacoil 2000 & Pulsacoil A Class models. It does utilise the use of off-peak electric and is specifically designed for new builds and to replace all Pulsacoil systems.
Pulsacoil BP Information


With the Gledhill Pulsacoil BP being an open vented thermal store, it does not need a temperature or pressure relief valve and therefore does not require any discharge pipe work installed. Part G building regulations
prohibits the connection of a discharge pipe from an unvented cylinder into a soil stack, unless it can be demonstrated that the soil stack can withstand the temperature of the water that is discharged.
This is why a Pulsacoil BP system overcomes the onerous requirement of Part G building regulation. If you are looking at an unvented system please note; plastic soil stacks do not fulfil Part G building regulation requirements (Currently) and can be very difficult to have installed. Also it can be a non cost effective, if you currently have a previous Pulsacoil system.
The Pulsacoil system can be filled manually not needing an overflow or discharge pipe. This allows the Pulsacoil BP system to be positioned anywhere inside a property. Als0 the advanced construction and primary store design means that no annual service is required, unlike with an unvented cylinder.
Additional Benefits With The Pulsacoil BP:


Powerful Pressured Hot Water From The Pulsacoil BP
A Pulsacoil BP system allows mains water pressure to push the the internal coil of the cylinder giving the user equal pressure on both hot and cold water taps. This mean you will not experience a drop in water pressure and can enjoy a powerful shower. This also means you can fill your bath tub quicker, losing less heat.
Pulsacoil BP Operates Efficiently
The Pulsacoil BP system was designed so that the energy it needs is minimised, avoiding costly us of electricity by taking advantage of off-peak tariff or rate 2 when installed with a timer.
No Scaling Takes Place In A Pulsacoil BP
The immersion elements in a Pulsacoil BP are situated in the same primary water at all times and this water is not renewed so no scaling takes place, even in hard water areas. Please note that other components associated with the Pulsacoil BP can be affected by scaling and we would highly recommend a "Descaling PCB" be installed, especially in hard water areas.


For more information on Pulsacoil BP please don't hesitate to contact us
Electrical Boilers



Rointe Heating
Low consumption Digital Electrical Radiators from Rointe:
The K Series Radiator maintains the stability of a comfortable ambience thanks to the Optimizer Energy Plus which provides the system with the necessary energy in each moment. Our technology allows us to keep the set temperature within a ±0.25ºC margin of variation during the steady period. A more stable temperature means higher comfort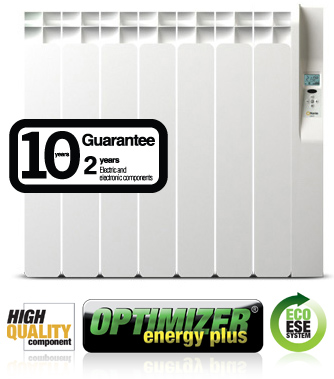 Please contact us for more information on the range of Rointe Electrcial heating products that we offer.


Unvented Hot Water Systems (Megaflo)
Worcester Bosch
Viessmann
Ideal Boilers
Glow Worm
Vaillant
Electrical Showers
Plumbers in Putney
Blueman Plumbing can offer you more than just Plumbing services, energy savings can now be made by installing renewable energy to your home or business, Solar panels can be used to capture heat and use it to heat water or feed it back in to the National grid, there are even government incentive schemes available to help you get started. If you live in Putney you may want a new bathroom fitted, repaired or altered then call Blueman Plumbing for all types of Plumber services.
Plumbers in Kingston
Blueman Plumbing can provide Plumbers in Kingston, and all of London for all types of Boiler Installations, such as New Combi boiler systems which now supply all your hot water without the need for a hot water cylinder, they will supply over 95% efficient heating for your radiators, which all means your gas usage will be lower than ever.
Plumbers in Wimbledon
Blueman Plumbing offer a high standard of service and that's why we are one of the most trusted Plumbers in London, all our staff are fully trained, qualified and take pride in all their work. We offer all aspects of plumbing and heating works from repairing small leaks to Installing brand new boilers from the leading manufacturers in the country.
Plumbers in Tooting
If you are having problems with your current boiler and need a trusted Plumber who is experienced, good value and reliable then we are a boiler replacement company that will supply and fit Worcester Bosch, Ideal, Vaillant and Glow Worm boilers. We have fitted Ideal boilers in Tooting with 5 year parts and labour warranties allowing landlords and homes to rest assured of no more costly repairs. We will also carry bathroom refurbishments and advise on the best types of shower and bathroom appliances, why not call Blueman Plumbing today.
Plumbers in Wallington
If you live in the Wallington area of London our plumber services cover a huge range of plumbing problems, If you have a blocked toilet or leaking pipe and need a Plumber, we can offer swift response times, high quality work and fair prices all from fully qualified , courteous staff that will leave your home or business clean and tidy after they complete their work.
Plumbers in Belmont
Our company have great experience in solving all types of plumbing problems so can then repair them in an efficient manner. We carry spares for most Plumbing repairs and are then able to complete many jobs within the first hour, saving you both time and money. All our work is guaranteed so if you live in the Belmont, London area and need a Plumber quickly call Blueman Plumbing on 0208 6444 414